Inventory
2017 KTM 350 SX-F
2017 KTM 350 SX-F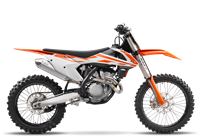 Description
Since Tony Cairoli first took a 350 SX-F to the top of the MX1 World Championship in 2010, the Red Bull KTM athlete has dominated the class aboard this nimble but powerful bike with five consecutive World Championship titles. No surprises here, with the combination of 450-class muscle and the agility of a 250. Who said you can't have everything?
Specifications
ENGINE
DESIGN
1-cylinder, 4-stroke engine
SECONDARY GEAR RATIO
14:50
CLUTCH
Wet, CSS multi-disc clutch, Brembo hydraulics
CHASSIS
FRAME DESIGN
25CrMo4 steel central-tube frame
FRONT SUSPENSION
WP-USD, AER 48, Ø 48 mm
REAR SUSPENSION
WP shock absorber with linkage
SUSPENSION TRAVEL (FRONT)
310 mm
SUSPENSION TRAVEL (REAR)
300 mm
FRONT BRAKE DISC DIAMETER
260 mm
REAR BRAKE DISC DIAMETER
220 mm
STEERING HEAD ANGLE
63.9 °
TANK CAPACITY (APPROX.)
7 l
WEIGHT READY TO RACE (WITHOUT FUEL)
99.6 kg
Features
AGILE ATHLETE
99.8 KG The main target for the KTM engineers when developing the SX models was a massive weight reduction compared to the previous generation. The result: the current SX-F models are the slimmest, lightest bikes on the track. Even though the 4-strokes are equipped with an electric starter as a standard feature, while the competition still needs to be kick started, the SX-F line weigh in pounds less. Rather than kicking to start - you can focus on kicking ass.
FOOTPEGS Sophisticated ´No Dirt´ footpegs prevent clogging of the footpeg pivot, even when digging in deep ruts. Looking for a higher riding position? Then just mount the footpegs of the MY2017 EXC models, which are 6mm higher than the SX versions.
FRAME The high-tech, lightweight chrome-moly steel frame is engineered for excellent handling, precise cornering and supreme stability. You can also count on high torsional rigidity and low longitudinal stiffness for better absorption of the energy created by the front and rear suspension sucking up jumps and bumps. In short: more comfort and less rider fatigue. Laterally attached, lightweight engine head stays contribute to a reduced vibration level. Two threaded inserts in the lower cradle tubes allow for an optional skid plate. The engineers were able to pull off all that, while making the frame two pounds lighter than that of the lightest competitor on the market. In addition, the frame is easier to maintain, easier to work on and supplies more space for the tank and other components. The bike also features an extra-light aluminum subframe, which weighs in at less than 2 pounds.
EXHAUST Noise limits are a real challenge for every manufacturer. Therefore, KTM has put a lot of effort into the development of its exhaust systems. All 4-strokes are fitted with header pipes that have a unique standard feature; an additional resonator system – a small chamber connected to the pipe. All 4-strokes are fitted with a short silencer, mounted as close to the engine as possible for mass centralization and better rideability. Its advanced internal design reduces the noise sufficiently in order to sit safely below noise limits while still raising the hairs on your neck.
AIRBOX The airbox design offers maximum protection of the air filter while ensuring maximum airflow. The large twin-air filter is mounted in a stiff cage, which at the same time holds the system in place. This design is so simple, you could still pop a fresh one in with a face full of mud. Without tools. In seconds.
HANDLEBAR KTM engineers sure know how to handle handlebars. This tapered one, made of high-strength aluminum by NEKEN, is fixed in damped rubber mounts and has two different positions. From 2017 onwards, the lower handlebar clamps are separated, while on the upper side a new bridge-type clamp guarantees more torsional stiffness. It's also easier to replace the bar in case it gets twisted in a nasty crash. ODI lock-on grips make grip changes easy which does not require any wire or glue to be secured.
BRAKES You can't brake any harder, better, faster or stronger. These high-tech Brembo babies are combined with lightweight wave discs made by Galfer. For 2017, the rear brake features a 10mm longer brake pedal and you get new, less aggressive brake pads all round.
SWINGARM The cast aluminum design offers low weight and a perfect flex behavior. The single-component casting process eliminates any inconsistencies and inherent weak points created by welding. It's better looking as well.
FUEL TANK A lightweight polyethylene tank has a capacity of 1.85 gallons. The filler cap has an inside thread, which makes for easy and reliable closure.
SEAT Tailored to meet the needs of the world's fastest racers, this durable seat offers great comfort. For 2017, a new cover gives its riders even more grip with better feel.
WHEELS Featuring lightweight, CNC machined hubs and high-end Excel rims, they guarantee maximum stability and minimal unsprung weight. The wheels are shod with the latest Dunlop Geomax MX 3S tires.
COOLING SYSTEM KTM's proven cooling system routes the coolant from the cylinder head through the frame triangle, directly to aluminum radiators made by WP. A new filler cap system and are stiffer alloy construction increase the durability and reliability of the cooling system. Due to flow optimized internal circulation and CFD-calculated air ventilation, the system is superbly efficient. In addition, well thought-out radiator guards integrated in the front part of the shrouds provide protection in a crash.
ALL-IN-ONE
ENGINE The engine of the 350 SX-F features a compact and very light construction. Its DOHC design with lightweight titanium valves and DLC coated finger followers allow for a lively but strong engine characteristic. Fitted with the latest electronic fuel injection system and electric starter, it has an extremely wide usable power spead, high performance and incredible rideability. The 350 SX-F engine shares the same layout the 250 SX-F – with less mass than a 450 cc machine for better handling while pumping out power that rivals some 450-class competitors.
CYLINDER HEAD The cylinder head features dual overhead camshafts with friction-optimized finger followers boasting a DLC coating and high-flow ports. Four lightweight titanium valves maximize intake and exhaust flow for an optimal power band and outstanding performance across the seemingly endless 13,400rpm rev range with power peaking at 58hp. New lateral brackets now made of aluminum instead of steel allow an efficient fixation of the engine to the frame and cut any excess weight.
ENGINE MANAGEMENT SYSTEM The state-of-the-art Keihin Engine Management System with electronic fuel injection features a 44mm throttle body. Thanks to its unique injector position, the engine's response is instantaneous. And to make life even easier, separate systems for cold starts and idle adjustment await you. The lightweight ECU features a unique traction and launch control system for lightning-quick response when the gate drops and maximum grip thanks to different maps that sync with to the gear you're in. It's also possible to unleash an even more powerful mapping via the handlebar map switch.
CRANKSHAFT The 350 SX-F's crankshaft utilizes a short connecting rod, which makes for an overall compact and lightweight engine with a snappy power delivery. A plain big-end bearing with two force-fitted bearing shells runs directly on the crank pin. This design is a major prerequisite for the extremely high engine speeds and the unrivaled maximum power of the 350cc engine. Not only that, it also enhances the engine's durability, allowing long crankshaft service intervals – a customer benefit in respect of time, effort and cost.
COUNTER BALANCER SHAFT The side-mounted counter balancer does double duty also driving the water pump. Thanks to its perfect balance and low oscillating masses, engine vibration is kept to a minimum.
CYLINDER AND PISTON Inside the short cylinder, with a bore of 88mm, thumps a box-type piston made by CP. Its crown geometry is adapted perfectly to the high-compression combustion chamber (14:1), where its rigid structure and low weight shine. Thanks to the low oscillating masses, the engine is both snappy and strong.
ELECTRIC STARTER The 350 SX-F is fitted with an electric starter as standard, which is a clear advantage when it comes to crunch time in the heat of battle. A strong starter motor made by Mitsuba and the proven starter drive will fire time and time again at the push of a button.
TRANSMISSION The reliable 5-speed gearbox features a special surface treatment on the 2nd, 3rd and 4th gears for solid reliability. The advanced ´No Dirt´ gear lever design prevents dirt from jamming the joint of the lever and guarantees precise shifting even in the muddiest conditions. All 4-stroke engines are fitted with a gear sensor for tailored engine mapping for each gear.
ENGINE CASES AND COVERS The design of the die-cast engine cases allows for minimal weight and a very centralized shaft configuration. This makes the engine short and compact, while contributing to an efficient centralization of masses. The engine covers also feature a solid surface structure, which reduces the wear caused by the rider's boots. This way, your SX-F will keep looking better longer.
CLUTCH The highly compact CSS clutch (coil spring steel) features a wear-free steel basket fitted with seven clutch plates, which are extremely heat resistant due to their steel carrier discs. The Brembo hydraulic system provides easy and precise modulation.
BRING IT ON
MONOSHOCK The WP monoshock has been developed with the entire frame and swingarm architecture in mind, including the linkage system and the WP AER 48 front forks. It features machined and black anodized components and is a valuable, high-end product compared to roughcast reservoirs. A new setting and a softer spring perfectly match the reworked front-end set-up and its sparkling WP color scheme lets everyone know you have excellent taste in suspension.
FORKS The lightweight WP AER 48 front fork, a 48mm USD air-sprung fork developed by WP in close collaboration with KTM, is a split fork with separate functions for each leg. That means damping functions are on the right side, whereas the air spring is in the left. This left leg features a two-chamber system with a capsuled air cartridge to prevent loss of air pressure. The air spring is easy to adjust to any rider weight via a single air valve. No special tools are required; just the air pump provided with the bike. The right fork leg integrates a damping cartridge that tailors to all your damping needs. It can be adjusted to the track conditions and the rider's preferences with a twist of a dial (compression from the top, rebound from the bottom, 30 clicks each). For 2017, the AER 48 also features redesigned outer tubes with better flex characteristics, smoother operation and less friction. And they are 3 pounds lighter than the 4CS units they replace. Right off the dealer floor, these forks are more comfortable and more sensitive than ever. But you can still hammer the hell out of them.
TRIPLE CLAMP Top quality, CNC machined triple clamps have been a KTM trademark for years to ensure precise handling. For 2017, the upper triple clamp specifically features a redesign in conjunction with the new fork tubes. The rubber damped handlebar mount has also been reworked and the lower handlebar clamps are now separated, while on the upper side a new bridge-type clamp guarantees more torsional stiffness and can easily be replaced in case it gets twisted due to a crash. In addition, an hour meter is fitted at the upper triple clamp in order to let the rider know it's time for a service.
ELECTRIFYING
HANDLEBAR MAP SWITCH All 4-stroke models are equipped with a sophisticated new multi-functional handlebar map switch, which does three things:· Activation of the traction control· Activation of the launch control· Selection of an alternative power curve (Standard or Advanced),The traction control is a unique feature that none of the competitors can offer. It guarantees more efficient traction when the track conditions are less than perfect. Push the button and reign supreme. With this map switch the rider can also activate the launch control, which provides more efficient starts out of the gate so you can go for the holeshot, time and time again. How? It simply reduces the maximum engine speed for the very first moment of the start, in order to give you better control. Push both buttons when the engine idles and the EFI control lamp mounted on the upper triple clamps will let you know you are READY TO RACE. In addition, the map switch gives the rider the chance to select an alternative, more powerful map beside the standard configuration. Welcome to the future.
BATTERY AND WIRING HARNESS All SX-F engines are fitted with the proven electric starter – a unique KTM feature and a major benefit at all levels of motocross racing. A super compact and lightweight one-pound Lithium-Ion starter battery breathes life into the engine and contributes to low vehicle weight. The battery and wiring harness are centralized in a compartment above the airbox, allowing the mechanic to remove the subframe without with the electrics. A happy mechanic is a good mechanic.
ELECTRIC STARTER Like all KTM 4-stroke motorcycles, the 350 SX-F is started at the push of a button - a priceless advantage when you're on the clock.
HIS COOLNESS
BODYWORK KTM R&D, Kiska Design and the factory racers had their say in shaping the plastics with one goal: complete harmony between rider and bike. Perfect ergonomics and contact points provide maximum comfort in movement on the SX-F. The I-beam structures of the front and rear fenders guarantee maximum stability and a low weight thanks to well thought-out construction and mounting. They also stay cleaner for longer.
GRAPHICS New graphics convey the READY TO RACE character of the 2017 SX-F model line.
All inventory listed is subject to availability and prior sale. Manufacturer's Suggested Retail Price (MSRP) if shown for a vehicle excludes set-up, freight, taxes, title, licensing or other dealer charges, and is subject to change. Individual prices may vary. Please request a quote for specific pricing.