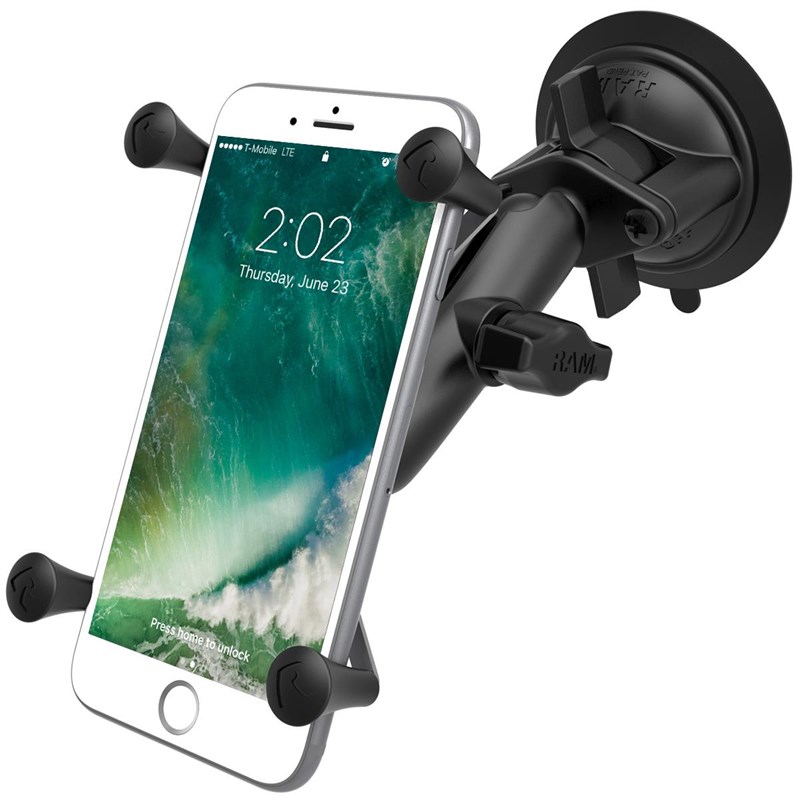 RAM Twist Lock Suction Cup Mount, Std. Double Socket Arm & 1in. Ball w/ X-Grip
Product Description
The RAM-B-166-UN10U consists of a 3.3 diameter suction cup twist lock base, STANDARD length double socket arm and universal spring loaded X-Grip cradle for large phones and phablets. The suction cup, twist lock base is designed to have a strong hold on glass and non-porous plastic surfaces, including RAM adhesive disks. Designed into the mount is a 1 diameter patented rubber ball and socket system with adjustment points at both ends of the socket arm; this with a twist of the arm knob, allows you to move the mount to your optimum viewing position. The spring loaded X-Grip cradle expands and contracts, allowing for a perfect custom fit of your phone or phablet.
The X-Grip includes a device tether recommended for outdoor applications. The cradle is compatible with handheld devices that will fit the dimensions listed below. It is important to verify the dimensions of your handheld device with a case/sleeve/skin when determining the overall size.
Cradle Dimensions:
Minimum Width = 1.75in. (Minimum Height = 5.5in.)
Maximum Width = 4.5in. (Minimum Height = 3.25in.)
Depth = 0.875in.